The video platform for real estate
Forecasters predict that 84% of all Internet traffic will be video by 2020¹.
The growing popularity of video among consumers is exciting news, but could trigger concerns for marketers who feel that video production is complex, costly and inaccessible. Particularly for those in the property industry, who can have thousands of listings live at any time. Video at scale, for every listing, used to seem like an impossibility.
Until now.
What is First Viewings?
First Viewings is the world's first end-to-end video platform for real estate professionals. It gives estate agents, developers and property consultants the tools and technology to create video content themselves in as little as 30 minutes and it makes marketing properties with video simple, fast and affordable for every listing, across all branches. The best part? You don't need any filming experience to create professional looking property videos for your listings. All you need is the First Viewings Kit and your own iPhone.
How does it work?
1. The First Viewings Kit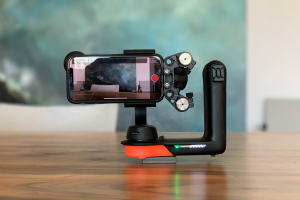 Open your kit bag and you'll find a wide-angle lens, an iPhone case, and a gimbal. The wide-angle lens gives your rooms space, and the gimbal make your shots smooth and steady. Both make your videos look like they were shot by professionals. Upgrade to a tripod and make your shots even smooth. Learn more

2. Create a property video in five steps with the First Viewings App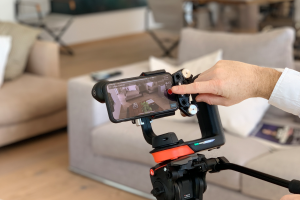 The is where the magic happens. It's also what you use to film your property clips. The app automatically edits your video with music, transitions and your own company branding. You can have your property video complete in as little as 30 minutes, from start to finish. Learn more

3. Manage your videos and track engagement on the First Viewings Cloud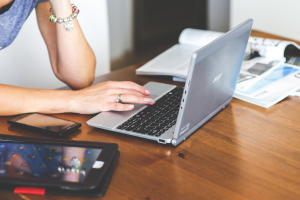 This is where you set up, manage and publish your property videos. It's also where you can track the performance of your property videos, to discover viewer engagement rates that let you make more informed decisions about your property marketing. Learn more

How much does it cost?
The First Viewings Kit starts from £650. After that, it costs just £25 per month, per videos. Your videos can stay live indefinitely, but you're only billed for the first six months.
What next?
Smartphone camera have reached a stage where it's possible to take professional quality photographs and videos ourselves, with the right technology and tools. We want to put video content in the hands of real estate professionals, who know how to market their properties and manage their listings better than anyone, and want to do so in their own time.

Would you like to find out how you can start?
Take the first step by contacting us today.
¹ https://bit.ly/2SP1a5S