A short guide to filming your first property
At First Viewings, we want to make filming property videos simple, fast and affordable for real estate professionals. We've made the process so easy that you need no filming experience to create a property video in as little as 30 minutes. This guide shows you how.

Stage One: Set up your property on the First Viewings Cloud
Once you've joined First Viewings and completed your training session, you're ready to set up a property to film.
1. Log onto the FV Cloud.
Once you have an account with us, visit https://dashboard.firstviewings.com/signin.php to log in.
2. Set up the property you would like to film.
You'll be asked to provide property information such as square footage, number of bedrooms, number of bathrooms and price.
3. Submit as ready to film.
Once you've pressed submit, your property will appear in the app when you log on.
State Two: Film your property on the First Viewings App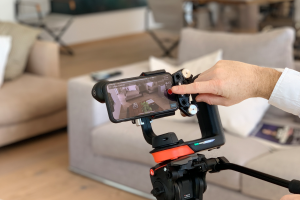 Don't forget to charge your gimbal before you go to film your property and make sure all the equipment is in your kit bag; the gimbal, the phone case and the lens. If you're filming with a tripod, that comes in a separate case.
1. Log into the app.
2. Find the property that you want to film.
3. Attach your phone to the gimbal and make sure it feels balanced.
4. Follow the steps to ensure the property is ready to film.
5. Press record on the gimbal or the phone and film your first clip.
6. Press finish once you've recorded all your clips.
7. When you're done, trim, drag and drop each clip to reorder or delete as you see fit.
8. Press next and choose your music.
9. Press Make Video and wait for the film to be created.
10. Click Upload Now or Upload Later if you're finished. Click back to edit more.
Stage Three: Publish your property video on the First Viewings Cloud
Once you've uploaded your property, it will appear in your dashboard for you or the content manager to review. If the content manager is happy with your property video, they will press Publish. If they'd like a few changes made, they'll request a reshoot.
Training with First Viewings
We offer personal training sessions to onboard new clients to the platform and give them the confidence to start filming their own property videos. For more information, contact team@www2.firstviewings.com.